As of 8:34 AM, Hawaiian Standard Time (HST), yesterday, August 29th, Hawaii's Kīlauea volcano is actively erupting!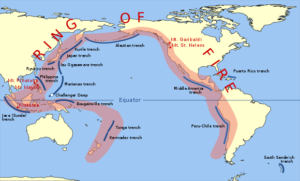 More than 450 Volcanoes today form the Pacific Ring of Fire, a sub-oceanic expanse that is host to 75% of the world's active and dormant volcanoes and an area prone to powerful earthquakes. The active volcanism along the ring is a direct result of plate tectonics, the centuries-long drift, friction and interaction of the Earth's tectonic plates, one slowly riding on top of the other. Sometimes referred to as the circum-Pacific belt, the Ring of Fire is a enormous horseshoe shaped expanse whose perimeter is largely defined by the Pacific Plate. It extends along the western coasts of the North and South American continents, the southern coast of Alaska, the Aleutian Islands, Japan, the entire expanse along the South China sea, Vietnam, Indonesia, the Philippines, New Guinea and New Zealand.
The Hawaiian Islands sit dead-center atop the Pacific Plate, a moderately large plate. They represent some of the richest, most fertile land on the planet, a consequence of their origins as lava outflows or other manifestations of active volcanism. The large island's Kilauea volcano is located along the southern shore of the island and is actively erupting. Its history has been a long and active one dating back between 300,000 - 600,000 years with its emergence above sea level is thought to have occured about 100,000 years ago. The large island is also host to the world-wide collaboration of some of the largest, most advanced telescopes on the planet. The domes of the William M. Keck observatory's twin ten-meter telescopes sit atop the dormant shield volcano's 4.2 Km (13,802 ft) summit.

The volcano's status is actively monitored by the United States Geologic Survey here.
Featured image: Hawaii's Kilauea Volcano during recent Nighttime Lava Flows

Total Page Visits: 2874 - Today Page Visits: 0